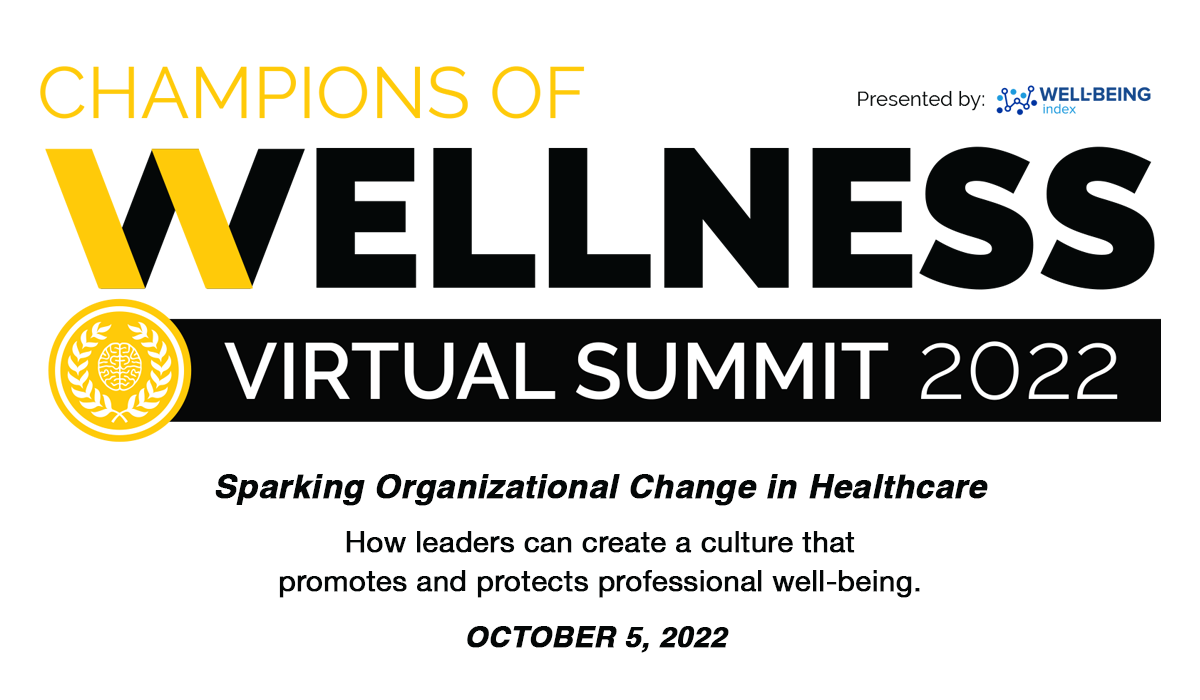 ONLINE
JOIN FROM ANYWHERE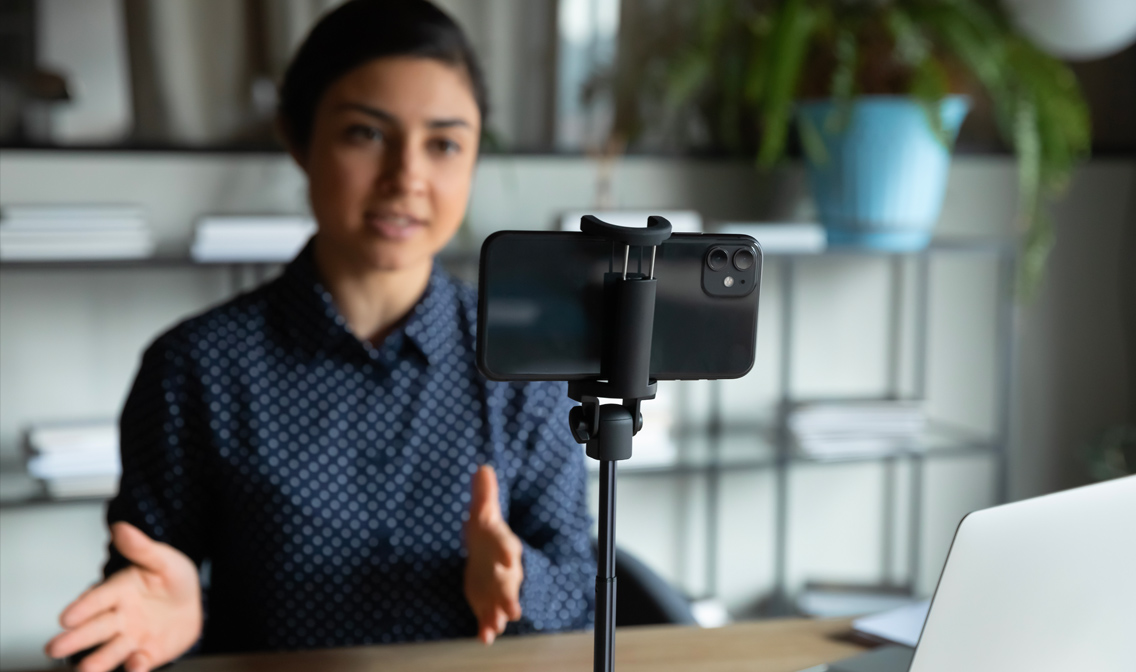 Who attends?
C-Suite leadership, wellness directors, team leads, managers, and more!
You'll leave with:
• Invaluable insight and best practices from top leaders who have found success
• A roadmap for how to overcome obstacles in promoting provider wellness
• Latest research-backed tactics to maximize the mental health of your teams
• Unstoppable momentum to keep leading the way to well-being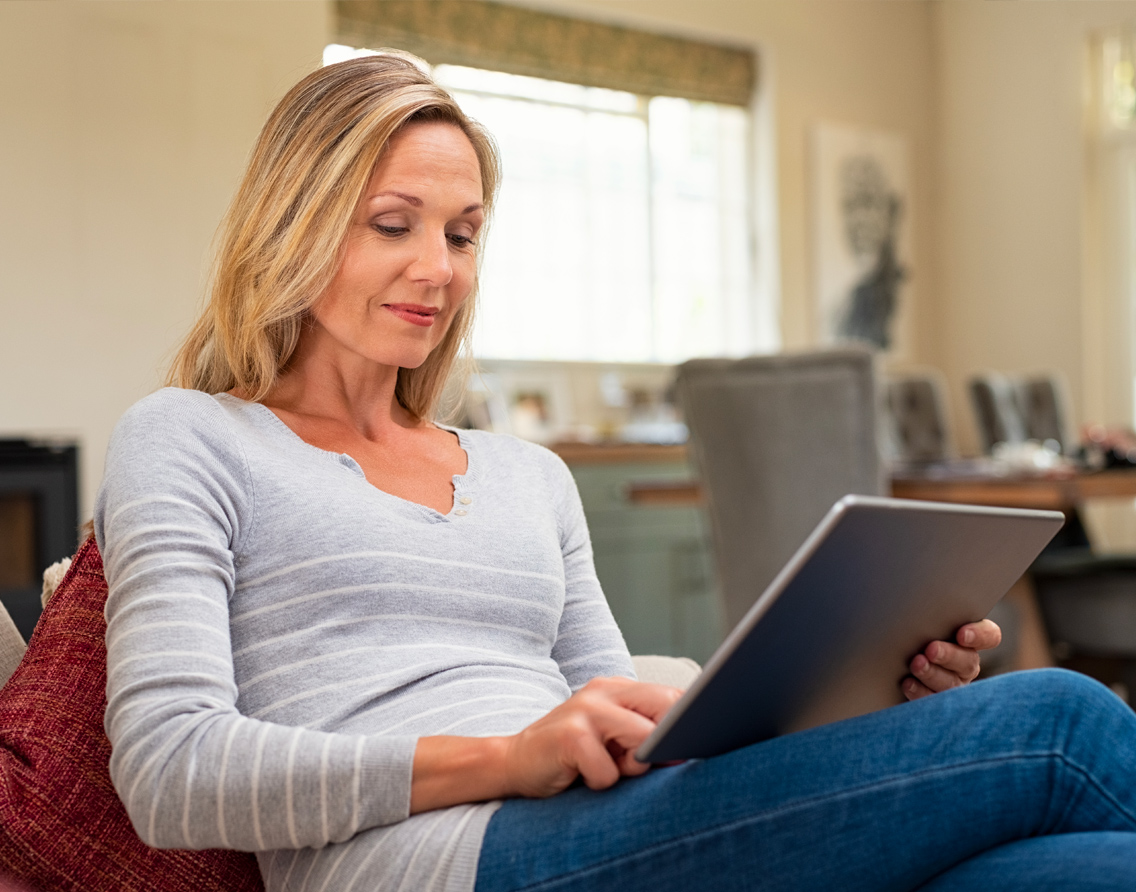 We're leading the way to well-being in the workplace.
100% free and online, join thousands of other healthcare leaders for a full day of exclusive and impactful presentations.
Featuring prominent keynote speakers and top wellness experts, the Champions of Wellness Virtual Summit 2022 will equip you with evidence-based approaches and breakthrough strategies to help prioritize healthcare workers' mental health and foster a brighter future of medicine.
Join From Anywhere
Whether you're in your office, on the couch, or in between rounds, attend this impactful event on any device from anywhere in the world with an internet connection.

Lotte Dyrbye, MD, MHPE, FACP
Co-Director of the Program on Physician Well-Being | Mayo Clinic
Sally Spencer-Thomas, PsyD
President | United Suicide Survivors International
DeAnna Santana-Cebollero, PhD
Executive Director | Coalition for Physician Well-Being
Katrina Jones
Inclusion, Diversity & Equity Leader | Amazon Web Services
Bryant Adibe, MD
Professor of Organizational Change and Leadership | USC
Nadja El Fertasi
CEO | Thrive with EQ
Lynn Myers, MD, CPC, CHC
Chief Quality & Medical Officer | Texas Health Physicians Group
Klaus Kjaer, MD
Chief Quality and Patient Safety Officer | Weill Cornell
Keith Frey, MD, MBA
Chief Medical Officer | CommonSpirit Health
Nisha Patel, MSHA, MBA
Executive Director of Operations & Wellness | UAB School of Medicine
Lisa MacLean, MD
Director of Physician Wellness | Henry Ford Health System
Sharon Grossman, PhD
Bestselling Burnout Author & Professional Coach
Kristin Jacob, MD
Medical Director | Spectrum Health Office of Physician & APP Fulfillment
Jeff Moody, MD
Burnout Researcher & Author
David Parks
Vice President | Bluepoint Leadership Development
John McMahon
Director of Client Experience | Well-Being Index
Dian Ginsberg, EdD, MA, CPCC, CHWC
President | The Career Consultants
Michael R. Privitera, MD, MS
Medical Director of Medical Faculty & Clinician Wellness Program | University of Rochester Medical Center
Ashley Cauley, MSIOP
Chief Human Resource Officer | Cohort4Care
Paul DeChant, MD, MBA
Well-Being Thought Leader & Author of "Preventing Physician Burnout"
Wendy Laine, MD
Director of Wellness | Emergency Physicians Professional Association
And more!
Presented by the Well-Being Index
Sparking Organizational Change in Healthcare
How leaders can create a culture that promotes and protects professional well-being.
Evidence-based approaches and breakthrough strategies to help leaders in medicine foster a brighter future for healthcare—a future in which the mental health of our medical professionals is prioritized just as much as patient health.
Time (CT)

Session

Description

10:00 am CT

Kickoff

Champions of Wellness President PJ Calkins

10:15 am CT

Keynote 1

Dr. Colin West
Director of Mayo Clinic's Physician Well-Being Program
TOPIC: Clinician Well-Being: From Burnout to Thriving in Modern Practice

11:20 am CT

Speaker

Dr. Nancy Berlinger
Research Scholar at the Hasting Center
TOPIC: What Do Physicians Want from Leadership? Insights From a Qualitative Study of Systems Factors in Physicians' Occupational Health & Well-Being During COVID-19


12:30 pm CT

Speaker

John McMahon
Director of Client Experience at the Well-Being Index
TOPIC: How to Build a Foundation of Trust Within Your Organization

1:30 pm CT

Intermission

– – – – – – – – – – – – – – – – – – – – – – – – – – – – – – – – – – – – – – – – – – – – 

2:00 pm CT

Keynote 2

Dr. Christiane Corriveau
Co-Chair of the Clinician Well Being Initiative at Children's National Hospital, Washington DC
TOPIC: Creating Systems & Culture That Support Healthcare Worker Well-Being

3:10 pm CT

Speaker

Dr. Michael Zgoda
Chairman of Medicine at Creighton University School of Medicine, Dignity Health Medical Group
TOPIC: Evidence Based Wellness Program Saves Money, Careers, & Lives

4:20 pm CT

Speaker

Dr. Chantal Young & Dr. Kathleen Nelson
Director of the Office of Well-Being at Keck School of Medicine, USC | Leadership & Career Consultant
TOPIC: Leadership Development Program for Division Chiefs & Vice Chairs to Enhance the Well-Being of the Clinician Workforce

 

Wrap-Up

Champions of Wellness President PJ Calkins
Bonus / On-Demand Sessions
Time (CT)

Session

Description

On-Demand

Speaker

Dr. Varun Choudhary
Chief Medical Officer of Talkspace
TOPIC: Taking Care of Our Healthcare Workers: Creating a culture of wellness & support

On-Demand

Speaker

Dr. Hani Chaabo
Medical Director of Well-Being & Stress Reduction Clinic Director at Ridgecrest Regional Hospital
TOPIC: Well-Being 2.0: Restoring the Joy in Medicine

The Champions of Wellness Virtual Summit 2022 is presented by the Well-Being Index.
The Well-Being Index is an online self-assessment tool invented by Mayo Clinic to measure and support the well-being of medical professionals. The Well-Being Index equips organizations with comprehensive wellness reporting and lets participants anonymously measure their well-being in less than one minute, compare their results to peers and national averages, access customized resources, and track their progress over time. Get the data, support, and tools you need to Go Beyond Burnout.
Access case studies, validation articles, testimonials, and take a free demo.