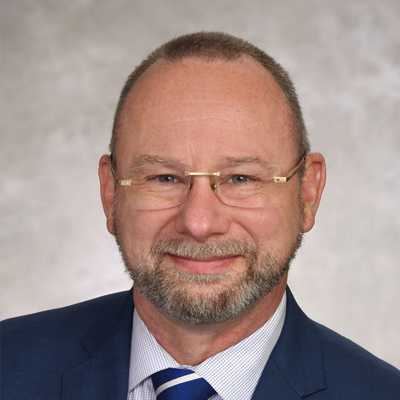 Dr. Michael Zgoda
Chairman of Medicine at Creighton University School of Medicine, Dignity Health Medical Group
Topic: Evidence-Based Wellness Program Saves Money, Careers, & Lives
Michael Zgoda, MD, MBA, CPE is a Faculty Physician and Department Chairman with Dignity Health Medical Group Internal Medicine. He is also the Academic Chairman at Creighton University, School of Medicine, Phoenix Campus. Dr. Zgoda is Board Certified in Internal Medicine, Pulmonary Medicine, Critical Care and Sleep Medicine. With a myriad of research, published work, and inventions, Dr. Zgoda spent years discovering and documenting new, innovative ways to treat patients' most advanced pulmonology, critical care, and sleep disorder care needs. Over those years, he was awarded many times for his diligent work to nourish the industry, nurture patient experience and advance academic medicine. Dr. Zgoda attended the University of Kentucky in Lexington, KY, where he earned his Bachelor of Science Degree in Microbiology (Summa Cum Laude). He attended University of Kentucky, College of Medicine to earn his Medical Doctorate (with distinction) and went on to complete an Internship, Residency in Internal Medicine, and Fellowship in Pulmonary, Critical Care, and Sleep Medicine at the University of Kentucky Chandler Medical Center. He went to Harvard School of Medicine, Beth Israel Deaconess Medical Center, in Boston to advance in Interventional Pulmonary Medicine. Later, he attended the University of Massachusetts-Amherst where he earned his Master's in Business Administration with a focus in Healthcare Management. Dr. Zgoda has also completed the Executive Leadership for Healthcare Professionals Course at Cornell University College of Human Ecology and Samuel Curtis Johnson Graduate School of Management at Cornell University in Ithaca, NY.
Not registered for Virtual Summit 22?
100% free and online, join thousands of other healthcare leaders for a full day of exclusive and impactful presentations.
Featuring prominent keynote speakers and top wellness experts, the Champions of Wellness Virtual Summit 2022 will equip you with evidence-based approaches and breakthrough strategies to help prioritize healthcare workers' mental health and foster a brighter future of medicine.