How exactly was healthcare worker well-being affected during 2022? A mental health assessment tool invented by Mayo Clinic recently released a comprehensive report detailing the data they gathered over the past year—data from over 118,000 assessments.
The state of well-being 2022-2023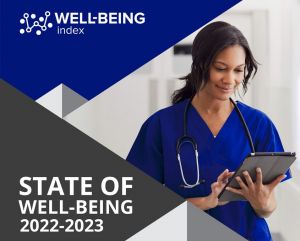 You can download the free report at: https://www.mywellbeingindex.org/state-of-well-being-2022-2023-report
The tool, called the Well-Being Index, allows medical professionals to anonymously assess their mental health on a monthly basis, track their progress over time, and access resources to help them improve their well-being. The anonymous data is also then provided to leaders in a de-identified format to help them tailor their wellness interventions. To date, over 1,000 organizations use the tool to measure and support well-being and nearly half a million assessments have been taken.
The 2022-2023 State of Well-Being Report compiles data from seven distinct populations of healthcare workers: physicians, nurses, residents/fellows, medical students, advanced practice providers, general employees, and pharmacy professionals.
In this free 20+ page report, you'll find insights such as:
Year-over-year distress levels since 2019
Burnout levels by occupation
Distress levels by years in practice
Well-being statistics by age & gender identity
What resource categories were accessed most
And more
additional insights
Along with this latest edition, the Well-Being Index has released several other reports available for free to the public, including annual State of Well-Being reports and more specific reports focusing on the impact of the COVID-19 Pandemic. By compiling and reporting on the anonymous data within the tool, Well-Being Index Insights makes high-level trends and analyses on professional wellness available to all.
You can explore and download all of the free reports at https://www.mywellbeingindex.org/insights.